By high-noon this past Saturday there were 12 Koskies in this house. Now there are two; one of which is sleeping soundly on the sofa, one of which wishes she were, too. Shelton's entire family came to stay with us over Memorial Weekend and we had a tremendous time catching up, playing, introducing Paisley, eating and the like.
The trip originated with Shelton's brother's family coming in from Baltimore for four days to meet Paisley; then grew to include his parents and youngest brother and his daughter. I was honestly a little overwhelmed by the idea of still managing a newborn and playing host to a dozen people, but it actually went much smoother than anticipated. (Isn't that always the case?) It was such a treat to spend some time with Shelton's brother and wife (Uncle Keith and Aunt Heather), as well as really enjoy some time with our 4yo nephew Stone (who celebrated his birthday while here with a rarely-seen cake baked by Aunt Brandi) and 18mo niece Tilton. We only get one or two visits a year with them, so we try to soak up every second we can when we're together. We took the kids to the zoo one afternoon; Paisley of course slept through this entire excursion making "first trip to the zoo" pictures kind of pointless. Stone was very curious about and interested in Paisley, even making several requests to hold her; he even planted a few kisses on her!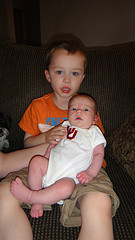 Then the rest of the crew arrived from OKC and we celebrated Stone's birthday and had a friggin' blast watching all four of the kids (the addition of our 18mo niece Emilee) play in the pool, with bubbles and sidewalk chalk, running, screaming and even eating some very messy popsicles in the hot summer sun. I honestly think that day goes down as one of the best ever.
At times I think there was a lot of stimulation for Paisley (and let's be honest, me!), but she did OK for the most part. I tried to stick as closely to her schedule and routine as I possibly could. This made the days a little rough, but thankfully she managed to still sleep her usual six to eight hours at night.
Before everyone departed we were able to capture a really fantastic picture of Oma and Papa with their four grandchildren. Can I tell you how great it feels to finally have one of our kids included in that picture? Pretty great! The four little Koskie cousins. I hope that 30 years from now they'll look back on these years growing up together as fondly as I look back on my memories with my cousins.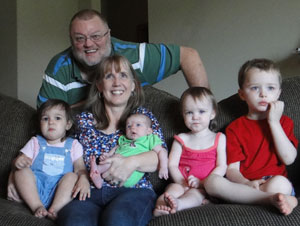 Last night, with just the original four Baltimore Koskies remaining, we enjoyed a really fun dinner at Chipotle where the kids were able to run around the patio, and then we took them to the fountains downtown to play.
We couldn't have asked for a better Memorial Weekend, and we're already missing all the kisses, hugs, and cuddles… and the way Tilton growls "No"!