Oh what a week! Not as bad as the past few have been, yet still not the starfish kisses that everyone promised second trimester would be. I liked week 23.
I had my monthly visit with my OB. And as much as I like going every four weeks and having him reassure me that there is in fact still a baby inside of my uterus, I'm going to be perfectly honest… these appointments are pointless. I'm learning that short of having a foot hanging out of my vagina, no one is going to react to anything. NO ONE WILL REACT! Which is disappointing for a person like me who, well, likes it when people react to things I say and do. He measured my belly and that was the only "test" he did. Apparently it was fine. I at least took a long list of questions with me to make it worth my while for going down there.
Whether I'm more sensitive to it or it's just trending, I've been hearing a lot about pre-term deliveries lately. This completely freaks me out. And Dr. W was reassuring in telling me that they have no idea what actually causes pre-term and he can't tell what to do or not to do to avoid it. Awesome.
I asked about the bloody noses that I wake up with every morning. He told me I'm pregnant. Awesome.
I asked about the heartburn I have that would make a dragon cry and "radiates in my knee caps," according to Juno. Ah ha! A solution. Prevacid or Pepcid.
We spent the weekend of Christmas in Oklahoma City with Shelton's family. We got to catch-up with friends over a very long lunch and it was as if the past two years hadn't lapsed at all. It was one of those four-hour lunches where we left with cheeks hurting from laughing so hard. They cooed over my belly and I soaked it up! There was confusion over our baby name and they thought it was Petunia. It is definitely NOT Petunia! We also got to spend two whole days with our nieces and nephew. I absolutely am in love with those babies. My nephew, Stone, is one of these boys who charges you when he wants to hug. It's adorable, and I've indulged this behavior for nearly four years, scooping him in to my arms with each charge. We both had to learn that pregnant people can't pick-up charging 3.5-year-olds… and 3.5-year-old boys can't charge pregnant aunts.
One of the highlights of the week was, of course, continuing to feel the baby moving. I will seriously sit here and laugh out loud (that's normal English for "LOL") when she gets on a roll. Each week her kicks and punches get stronger and the sessions last longer. This past week, they got so strong that I didn't even have to touch my belly to feel her, my stomach just moved. It's insane! Feeling her moving, rolling, punching and kicking is absolutely the highlight of my pregnancy and I think it is this that I will miss most when she's resting in my arms.
We did two road trips this past week – one to OKC and one to Topeka to celebrate the new year. I swore off planes a few weeks ago and I'm not too far off from swearing off car trips longer than 20 minutes. We have to stop all the time for me to pee, eat something or get up and walk. There is absolutely not one comfortable position in those seats. Driving helps some, but I hate driving and Shelton hates when I drive.
Our New Year's Eve celebration was fantastic. It not only marks the start of a new year (clearly!) but also the anniversary of when Shelton and I started dating. At midnight of 01/01/01 we kissed and we've been doing so every new year since. Maybe one or two other times during the year. 01/01/10 marked nine years… which means we've actually known each other for more than ten, and that's astonishing to me. We spend each Eve with some of our best friends in Topeka for a stay-at-home party that is always themed. This year I was fat and when someone suggested PJ Party I said yes! So we all sported jammies and had a comfy, cozy celebration. I actually made it all the way to 12:45am… even though around 8:30pm my eyes were doing that rapid-blink thing struggling to stay open. I also had a martini glass filled with "pregnancy sangria" all night long, and while I jealously watched everyone sip bubbly at midnight, at least it wasn't water.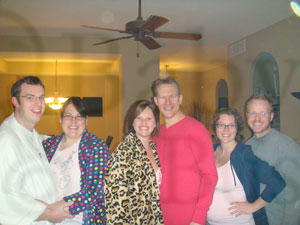 As if my cousin's long-john style PJs with the butt flap weren't entertainment enough, my pregnant boobs took center-stage and were the topic of conversation throughout the night. Apparently I'm supposed to change the name of the site to Baby AND Bust. I've known they've gotten bigger. I mean come on, I'd have to be blind and paralyzed from the neck down not to realize the expansion project taking place in the middle of my chest. But it's one of those things that you don't quite realize just how big they've gotten until someone points it out. And people pointed, literally. It was all in good humor and I'm glad that I was able to provide such robust entertainment for the evening.
Finally, we finished the week by registering. Yay!!! I've been waiting to get through the holidays to do so. The next few weeks are pretty insane for us and my first shower is the end of February, so I thought we should just get it done. Shelton was really stressed about it. He thought we needed a plan or a strategy. And I was like, we're going to scan baby wipes, what kind of strategy do we need? We went to Babies R Us and quickly realized that ALL OF THE PREGNANT PEOPLE IN WICHITA go there to register on Saturday afternoons. The BRU staff has clearly done this before and they got us set-up with a gun and on our way in a matter of minutes. It helped that I had registered online so we didn't have to go through all of that in the store. I started crying when they handed me the gun. Just another one of those moments that I thought would never be ours. So many times I've walked in to BRU to buy gifts for friends and walked out of their crying each and every time. And here I was crying inside the store because I finally got to be there for us, and it felt so good! I think we did pretty well, considering we have no idea what we're doing. When faced with 400 different varieties of baby bottles, strollers, diapers and other ESSENTIAL baby items, we typically opted for the brands we commonly see friends or family using. That was our on-the-spot research method. We were actually pretty reasonable about the whole thing, so we think, only scanning items we really needed and straying from the over-hyped plethora of YOUR BABY WILL NEVER LEARN TO WALK WITHOUT THIS SUPER TRENDY VERY EXPENSIVE HOUSEHOLD CLEANER WITH A PICTURE OF A BABY ON THE FRONT type items. Then we went to Target where my back and feet finally gave out and we spent one more hour scanning a few items. We're just that much closer to getting her here!!!