The clock is ticking pretty hard right now and I'm running out of time to do this – my annual wrap-up post. I feel like this and a million other things are behind. Namely, three months without a Dear Paisley letter. I have notes, lots of them, and I probably have the time, I just need to make myself see it. She changes so much on a daily basis that writing those letters every four weeks is sometimes impossible to remember everything, catching up on one-fourth of the year feels insurmountable.
I'm not going to lie, 2011 can go ahead and roll in to 2012 and I'm not going to lose any sleep over it. This wasn't a bad year, it was certainly not a great one. Maybe it was and I just didn't slow down long enough to see it.
I have some BIG goals for myself in the coming year and I'm the only reason any of those won't see the light of day … or will … however I choose to act. I'm ready to take back time that is rightfully mine, giving more of it to myself and more of it to Paisley. I'll toss a little to Shelton too, of course!
It's hard to say it was a bad year when I look back over the past 12 months and once again I'm reminded of the abundance in my life. So join me now as we take this little walk through my Google Calendar.
JANUARY
Shelton took a position as the interactive marketing director for RSA, a new ad agency in Wichita. A year later, he's more or less killing it and has truly found "his calling."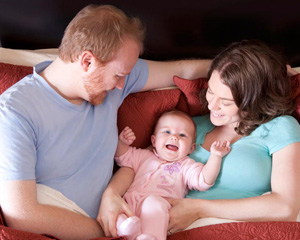 We were asked to be part of the Moments of Joy marketing project with Johnson & Johnson. Emmy-winning photographer Michael Franzini (above, photo credit) and friends came to our house for a half day to shoot us in our own "moment of joy" with Paisley – waking up in the morning! We were chosen as the family to represent Kansas in a photograph coffee table-style book featuring one family from each state. Paisley now reads this book almost daily, and loves flipping to the first page to see our family.
Paisley started walking at 8.5 months old!
FEBRUARY
Had the privilege of attending a reading by Elizabeth Gilbert, author of one of my very favorite books, Eat Live Laugh. She was spectacular and made me love her story even more.
My dad had a heart catheter procedure. We made light of the anxiety we all shared by video taping the nurse shaving his disgusting hairy chest for the monitors.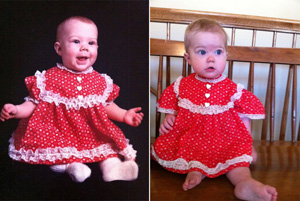 We celebrated Paisley's first Ayyam-i-ha in OKC with the Koskie family, minus Baltimore Koskie representation. We ate plenty of chocolate cake to make up for their absence. She also fit in to the dress my Great Great Grandma Lilly Kelly made for me.
MARCH
Shelton and I attended SXSWi in Austin with six other couples, a group of some of our dearest friends. We transported a fully baked and decorated cake on our SW Airlines flight to ensure the week kicked off right by celebrating Sarah Sanchez's 30th birthday. The week included a handshake with Dennis Crowley, A LOT of day drinking, and A LOT of good laughs.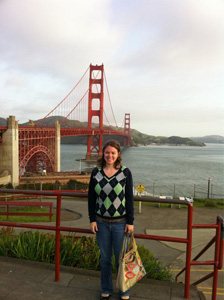 Upon return from Austin I immediately took off to San Francisco to attend IHRSA and meet with the Cybex team to review their new BL Arc machine. It was my first trip to the city and I think it was worth every penny of the $50 cab ride to check out the Golden Gate Bridge.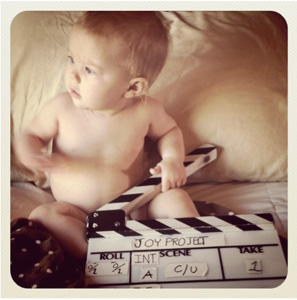 A follow-up to the Johnson's photo shoot was a commercial shoot. This was an intense day-long event that had about 15 people in our house shooting, directing, decorating, and a little acting from Paisley and I. It was a bath scene using the Johnson's Naturals products. Paisley did great, but couldn't quite understand why we kept getting in and out of the bathtub. The entire team was incredible, took very good care of us, and made a very generous contribution to Paisley's college fund. The commercial aired during a one-hour special for the "Joy" project, and we've heard from several friends that it runs on HULU too. You can see it here now:
APRIL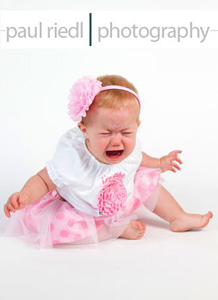 We mostly laid low this month, up until THE BIG EVENT on the 27th! Paisley turned ONE!!! Can you believe it?! Ugh, I still don't think I can and we're only a few months from the second one. On her actual birthday we went to dinner at Yia Yia's; not because Paisley would care about a nice dinner for her birthday but because it was also Shelton's birthday. We had a blow-out bash for the birthday girl on Saturday, complete with a pink tutu, all of our friends and family, and individual watermelon cakes that she refused to touch or eat.
MAY
We met up with our dear friend Paul Riedl to do Paisley's one-year photos in Norman. We sort of snuck in to the OU stadium and caught a photo that few Sooners have. I hope she grows up to be a Sooner too and cherishes this pic as much as I do.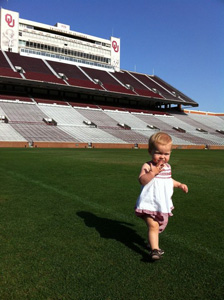 I went on a whirlwind tour for about a week. I left Wichita for Baltimore where I got to have lunch with Heather and Tilton by the bay, and then spent two days at a fitness conference meeting some incredible people who sort of changed the pace of my year. From there I rode a bus to NYC and hung out w/ my Brooklyn peeps for the weekend. Then, it was my first cross-country flight out to LA for the Biggest Loser 11 finale.
While I was away, Larenda stayed with us to help Shelton with Paisley. It was during all of this that the Joplin tornado happened and we were unbelievably relieved that her and my brother's house, as well as their respective jobs, were spared.
JUNE
This month was pretty much when my 2011-bad-mood started. I'd taken a few days off of work and just Paisley and I were headed to Dallas to soak up some fun and sun with Christie and Ada. We made it from OKC to Ardmore when the radiator blew up on the side of I-35. It was a brutal day, that turned in to a God-awful week, that turned in to an painfully large credit card swipe, that all resulted in never making it to Dallas at all. AND THEN when my incredible FIL drove me from OKC to Blackwell to be picked up by Shelton to go home, we were each 20 minutes in the opposite direction when I realized my laptop and luggage were still in Kerry's truck. The night ended with sangria with friends. The end.
Later that month, Shelton and I ventured to KC for a quick overnight trip to see a Chelsea Handler show, a gift from a friend. This trip was also a fiasco and we were beginning to mull over the benefits of a hermit existence. Her 20-minute show was hilarious.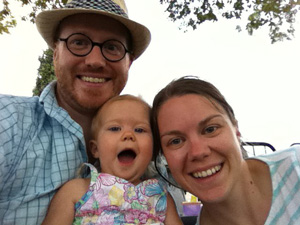 We started attending the free jazz concerts at Bradley Fair and it was becoming the highlight of our summer, until the World's Hottest Heat Wave Ever descended upon our fair city. We got three evenings outside with live music watching Paisley run around the gardens, and I'm grateful for each of them.
Paisley gave up her bottle without a fuss!
JULY
Shelton and I left Paisley with Grandma Lori so that we could spend an extended weekend in Denver with the Sanchezes. This trip may, or may not, have had something to do with my turning 30 the following week. We ate and drank our way through some excellent restaurants and cool microbreweries in Denver and up the road in Ft. Collins. There wasn't anything I didn't love about this trip. Including eating super glue off of my birthday cake.
I turned 30. I got to spend the day with some of my very favorite people and was surprised by a really nice dinner with my most favorite person.
Early in the month, my Papa Nick lost his very, very short battle with stage four lung cancer. He was a Marine and a pretty cool guy. The day the call came I walked around all day saying to myself "Got'Dammit Ann!," a phrase he was frequently heard barking at my Grandma. I still laugh every time I think it to myself.
AUGUST
Grandpa's house finally sold and we packed up the place where we took Paisley home from the hospital. We moved to a beautiful 1927 house in College Hill and are IN LOVE with this new home. We're super close to the park, even closer to some of our very dearest friends, and a bicycle ride away from Shelton's office.
Shelton and I celebrated our 9th anniversary. We treated ourselves to a babysitter and went to see The Help and then had the most fan-freaking-tastic Italian meal I've ever tasted from a new restaurant, Luca. We said mushy things to each other. And there were flowers waiting for me when I got home.
SEPTEMBER
With our Dallas trip null and void, Christie and Ada braved the I-35 stretch to visit us for Labor Day Weekend. We couldn't have had a better time! The little girls played, the big girls talked, and the boy just stayed out of the way. We sat on our patio and enjoyed the single best night of the entire summer together.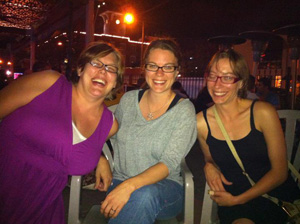 I went to NYC for a week to work from our main office. This involved a Saturday on Jim's and Amy's Brooklyn roof top with a lobster brunch that started late in the morning and wrapped up early in the morning.
OCTOBER
I had a chance to speak to Lou Heldman's Social Media class for the second time. It was as much fun as the first and a great learning experience for myself that I hope to expand on.
With DietsInReview we hosted an aid station at the Prairie Fire Marathon. I was a little disappointed in myself for not running this year, but I also cheered a little harder and louder knowing just how much those runners needed to hear it.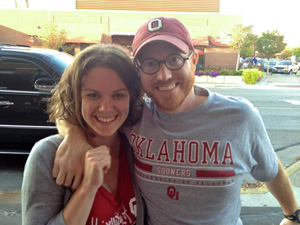 We spent a weekend in Lawrence with the Sanchezes to watch a terribly boring OU win over KU. We also stayed in a hotel where, as Jeremy put it, wouldn't have been out of the question to see a raccoon giving birth in the hallway. The weekend involved tacos, cupcakes, and an awesome breakfast.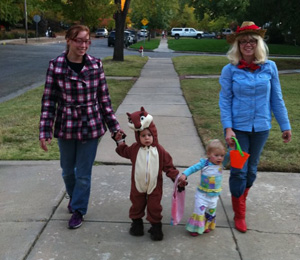 I lost part of Paisley's Smurf Halloween costume so at the last minute she went as a hippy which proved to be FAR more adorable. We took Paisley to about seven houses on our block, where she said "trick or treat" and "thank you" each time. Then, we handed out candy to about 300 kids, and Paisley helped with each piece saying "I share candy!" Jenna, Josh, Ellie, and our friend Sherry shared in the festivities.
NOVEMBER
One of our few quiet months, but as you can see, we'd earned it. We spent Thanksgiving in Moore with the Koskies, as usual. This year, Grandma Polly passed the spatula, if you will, down to me and I had he privilege of preparing the entire Thanksgiving dinner. I made the best turkey I've ever seen or tasted (give it up for brining!), a fig and turkey sausage stuffing, fresh cranberries, green beans, honey mashed sweet potatoes, and I even baked homemade bread. I was smart enough to leave the gravy and desserts to Grandma!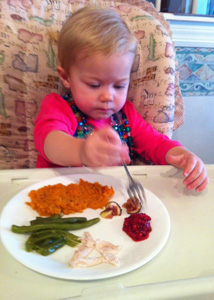 On that trip we took Emilee and Paisley to see their first movie at the theater – The Muppets. Both did a really great job.
DECEMBER
We spent a weekend in OKC with "the crew" at the Crews/Titus Christmas Party, where we always push the limits of becoming an instant diabetic. It's a rare opportunity to have all of our friends in the same place, and we love it!
I made my way to LA once again for the Biggest Loser 12 finale. It was a lightning fast 48 hour trip that crammed in quite a bit of excitement. I got to meet the Derow twins – Silas and Cian!!! Two sweet boys who I waited anxiously for this year.
Christmas was perfect this year. It was low-key and included all of my favorite things – great surprises from Santa, all of my family, and good food. Paisley was really in to the holiday this year, which made for a pretty magical morning.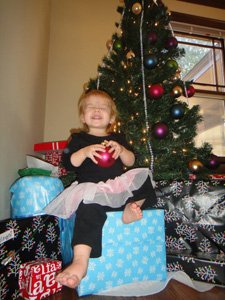 We plan on ringing in the new year with the Moreheads, my aunt/uncle and cousins. This is a tradition that I find to be the perfect way to bid farewell to the old and welcome the new. When that clock strikes 12, Shelton and I will mark 11 years as a couple … even though he says we don't recognize that as an anniversary.
What this list both does and doesn't say is that we have good jobs that we love. We didn't have a single medical incident this year and as of this writing all three of us are in excellent health. My heater is blowing really hot air on me right now while I'm watching OU play in the Insight Bowl on my 11-year-old television. My belly is stuffed full with homemade enchiladas and guacamole. I've hugged my husband about a dozen times today, and gotten more kisses and "wuv you too"s from my daughter than I can count. In other words, I have every single thing that I need, and when I stop and make myself really look around, I pretty much have everything I want, too.
As my friend Karin taught me to say… this is the Best Life Ever.
Happy New Year to each of you, and thank you for being a part of our year. We look forward to sharing the one ahead with you, too.