Dear Brandi,
The time has come. Today you turn 30. Yeah, I said it. What?
If I were your shrink, I'd tell you why you've had so much anxiety about this birthday. It's because you vividly remember the birthday party that was thrown for your dad when he turned 30. There were over the hill banners and candles, joke pills for old-people ailments, a wheelchair, diapers, and more. To a six-year-old, 30 was the end of the road. But now that you're here, with 30 slapping you in the face, as you can see, it's really just the beginning. Wouldn't you agree?
You were given some great advice last winter from a woman who was on the cusp of turning 40, and she told you that the only thing she regretted about turning 30 was how much time she spent regretting turning 30. You never take advice, because you're too stubborn and independent, but I'm proud of you for taking this little nugget. In the past six months, you've actually become less hesitant about your birthday, and have embraced all that lies ahead of you in the next ten years. That kind of wisdom can only come with age. Or a fuzzy wine induced state of delirium.
Your twenties were one hell of a ride, right? No other decade will likely bring as much change as this one did. You left home; went to and finished college (GO SOONERS!); met, fell in love with, and married your best friend; bought a house, then another; started a career; begged the Internet for money; had a baby with that money; ate sushi (and liked it).
If you had ever made one of those "where I'd like to be when I'm 30 lists" I don't remember it. I know you talked about wanting three kids by the time you were 30, and let me tell you, getting one-third of your wish is more than enough. Seriously, that infertility thing did you guys a favor. Just think how tired you'd be… and how sexy you'd look in a minivan! I know you wanted to be happily married, and you nailed that one on the head. You wanted to have a successful career, and while that definition is certainly subjective, it fully meets your criteria. You wanted to have a boob lift, and as you can clearly see, that hasn't worked out for you. Yet. (PS, put "make friends with a plastic surgeon" on your endless and stroke-inducing to-do list.)
What I'm getting at here is that you have an incredible life. Some might even say enviable. You might not take fancy vacations, have ever owned a brand new car, or feel the relief of a zero-balance credit card, but what you do have is more valuable than all of those things combined. You're happy. You know by now that money does not buy that… that being happiness. It's that intangible thing that every person on earth is chasing and you found it. At the tender age of 30.
If you're as smart as you sometimes give yourself credit for, you will spend the next ten years continuing to do the things that you love, pursuing the things that make you happy, and filling the gaps with new. Yes, new, as in change, different, and unfamiliar. You will do more things that scare you, and live to tell the tales. You must make more time to do that ONE BIG THING that is begging to be done. Get off of Twitter, and Facebook, and Scrabble and just do it already. I think you'll find it's going to be one of the hardest things you've ever done and likely one of the most fulfilling. (Yes, to the rest of you that's vague but Brandi knows exactly what I'm talking about.)
That THING will only be a notch or two less fulfilling than being Paisley's mom. Can you believe that kid? And that she is YOURS? No single job you have is ever going to be as important, enlightening, pure, or dramatic as being her mother will be. She is going to break your heart, but don't ever break hers. She is also going to fill it to a point of bursting, and you will need to make sure you do the same for her… often. I hope you'll allow yourself to develop just enough patience that you can learn from her as much as she will from you.
Never stop being and doing all the things that make you, you. It gets old sometimes, but hopefully having the sense-of-humor of a 12-year-old boy will not tire any time soon. Sometimes that stupid stuff just needs to be noticed and laughed at. Embracing your curly hair is one of the smartest things you've ever done, followed only by your decisions to finally try (and love) cream cheese, avocados, rice, and bell peppers.
There's a cheesy top-40 song (admit it, you love them) playing on the radio right now that says "It's gonna be a good, good life." And it is. Why wouldn't it be? You've worked so incredibly hard to get yourself where you are, all with the goal of enjoying a good life. It may not always feel like "THE" good life, but it certainly "A" good life.
Don't forget your 20s. I'll even allow you to call them your roaring 20s. (get it?! haha) You spent that entire decade with Shelton and are better for it. You attended five Dave Matthews concerts, stood first row at a Counting Crows concert, and actually on stage for a Korn concert (you went through a phase, it's OK). You had sushi with Jillian MIchaels, enjoyed dinner in Marc Cherry's home, had the gall to ask Cedric the Entertainer to take a picture with you at LAX,  interviewed Donald Trump and Jimmy Fallon, and have made friends with a few incredibly inspiring Biggest Loser contestants. You've put your feet in both oceans and skied down mountains, and while you've yet to obtain the legal document that allows you to leave this island, you still have the brochure to a resort just outside of Fiji and I have no doubt that you will get there. You graduated from the University of Oklahoma with a bachelor's degree, and have never felt more proud. You've made some of the best friends a girl could ask for, hung on to them tightly, and cleared out the cobwebs of those who didn't quite make you a better person. You were told you couldn't have a baby and you pretty much kicked that noise in the throat and pursued a relentless four-year fight to get her here. And she's perfect! You've written for national publications and helped launch a formidable competitor in the health space. You became an aunt, a wife, a mom, an in-law, and according to NPR once, an expert. You've appeared on a national morning show, the front page of newspapers, national radio, in a published book, and as an endorser on a book jacket. You became quite an excellent cook.. why you ever eat at restaurants escapes me. You're really good at it. (PS – seriously, give up on baking already.) You ran a half marathon in 3 hours and 12 minutes just 5.5 months after having a baby. You've still never learned math, but you've mastered Google and use Shelton on IM as a personal calculator. You were proposed to over cheddar bay biscuits and married in flip flops, and have built a marriage to be proud of. You have had a blast.
When we check in again at 40, I want to see another list that is as accomplished, positive, entertaining, and memorable. Just get that THING done, and get a passport already.
Brandi… this is the best life ever.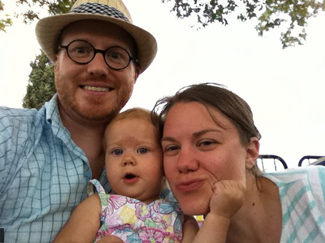 Love,
Me